Mother's Day is generally celebrated on the second Sunday of May. (I'm using the word generally because in Korea, Mothers' Day and Fathers' Day are celebrated on one day only: Parents' Day). My original plan was to write a post on the many Filipino children's books dedicated to moms everywhere. Then I discovered that I had a few non-Filipino books about moms as well, and suddenly I wasn't sure which to feature. So it was a blessing in disguise when Bookbed, a Philippine-based organization aimed to encourage more people to read, got in touch. Suddenly I could write about these two posts without seeming a bit spammy. 🙂 (Read it here: 10 Filipino Children's Books Celebrating Moms)
So here is the other post I wrote, now with stories from Asia on why Moms are Awesome:
1. Because they have seem to have superpowers.
You think I'm exaggerating? The young boy narrating this story doesn't seem to think so. Superwoman si Inay is a Filipino-English children's story of a young boy who is constantly amazed by his mother's amazing feats. She's very popular around town for several reasons, including being a popular nail technician and for her giant bag (a bayongwhere she brings around some clothes and shoes to sell which always sell quite well. The boy also talks about how his mom is able to do the impossible. One day, his mom feels quite faint and doesn't have the strength to do her daily supermom duties. The boy was worried, wondering if she was sick. That's when his mom told him the big news: mom was carrying a tiny human inside of her! Mom's awesomeness knows no bounds!
2. Because Missing Home often equates to Missing Mommy's Cooking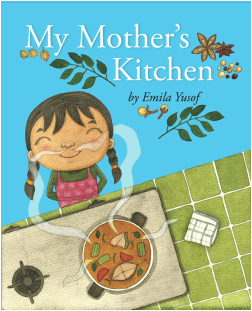 My Mother's Kitchen is a Malaysian story of a young girl who loves to cook with her mother. She joins her in the kitchen where she discovers different colors and flavors of Malaysian ingredients to make different Malaysian foods. When she grows up, she says she wants to be a chef. But first, she and her mother are about to enjoy their delicious meal together! (When I'm sick abroad, oh I can't help but miss my mom's soup and even porridge!))
3. Because they help prepare us for the future.
You remember those days mama would nag and nag and nag until one day—crap, I'm on my own. While I don't say I miss the nagging, I do miss being a kid and not needing to be the responsible adult 24/7. Ang Sabi ni Nanay, Ang Sabi ni Tatay (Mom Says, Dad Says) is a story of kids experiencing just that, except they're definitely more mature than I was and they hate being stereotyped! (Mom, Dad, seriously? It's already 2017, you know.)
Francis and Rosalie are siblings who often assist their parents. Rosalie often goes with her mother to the market, helps her wash clothes and tries her hand and budgeting while Francis is expected to help their father carry heavy loads, wash their cab and know how to fix things around the house. Little do their parents know that the two aren't so happy with their assigned tasks and wished they had each other's tasks! One day, an emergency arises and their parents have to leave for a few days. They asked Grandma to come and help watch the kids during that time, reminding the siblings to help out with the house chores. When the parents came back they were surprised to learn that it was Francis who helped with cooking (and not the daughter) and Rosalie who washed their cab! (and no, not their son.) I mean really, Mom and Dad, it's 2017 already. Let's get with the times, shall we? 😉
4. Because of how much they are willing to sacrifice for us.
Ang Kayamanan ni Inay (My Mom's Treasure) is a Filipino-English story of a young girl who doesn't understand why her mother has to withhold her allowance from her every morning. She understands that money is a bit tight, but come one, she's not even giving that much! Soon she meets a young boy named Enok who collects garbage for a living and was envious at how much more he gets per day compared to how much her mom is giving her! She skips school for a few days to join him, excited that she's earning so much, until one day Enok embarrassingly admits that he can't read while trying to read. He's collecting garbage because his mother could never afford to send him to school. The most heartbreaking part is he's just primary school age but has given up because he believes he's too late to learn to read. (Author's Note: Someone needs to go give his mama a lecture!) The narrator then returns home, tells her mother everything who in turn explains her sacrifices.
Another book about moms sacrificing for their children is called Yaya Niya, Mommy Ko (Her Nanny is my Mom). Read more about that here.
5. Because they find ways to make the best of every situation.
水牛儿 (The Way Home from School) is a Chinese story (with an English translation on the book's last few pages) about a young girl who is envious that her classmates can go home by car while she and her mother can only afford to walk home… even when it's raining! In the middle of her complaining her mother shushes her and then tells her to pay attention to the sound of the rain, to the way it drips and slides down leaves, and the different insects (like the snail) and plants they pass by on the way home. While waiting for her mom as she bought some flowers, she even imagined herself on a mini-adventure! Had she gone home by car, she would have never noticed any of these! When she reached home a neighbor asks her what took her so long to get home, to which she happily replies that she walked home with her mom, and that she loved it!
Though the mom and the daughter most likely walked on home on foot in order to save a bit of money, I highly recommend walking around after the rain for discovery and bonding purposes. Just yesterday my daughter and I watched (and saved!) snails crossing our bricked walking path which a lot of people bike through. My daughter watched as I plucked out a leaf (she panicked at how I "killed" the leaf until I explained our purpose) from a nearby tree and started scooping snails to move them into the plants area.
6. Because moms (parents, actually) are our first teachers of what is right and wrong.
Nina Wonders, Nina Asks is a Filipino story (in English, with a Tagalog translation at the back) of a young girl who spends her day wondering and asking why people do certain things that we all know is wrong. Some examples are people throwing trash right outside the trash bin, pedestrians and drivers not following road rules, students bullying and even cheating. She is happy when she finally reaches home because she's back with her parents who had taught her what she can and cannot do. But now the question is: Nina Wonders, Nina Asks (but really what should Nina do?)
7. Because they inspire us to become better.
Naughty Monkey and the Bird's Eggs is a Thai-English book about Little Monkey's mischief. During a game of hide and seek with his friends, he discovers a nest of eggs and decides to hide them for fun. When Mother Bird discovers that her babies are missing, she comes out of her banyan tree to ask Little Monkey and his friends for help. The group of friends are unable to find the eggs, but promise to return the next day to continue finding the eggs. That night, Little Monkey comes out and tries to sneak the eggs away from his hiding place, but is frightened by the darkness and the spooky sounds in the night. He cries for his mommy. But who should arrive but Mother Bird! Mother Bird hears his cries, comes to him and helps him find his way back to his own home. That night, Little Monkey is guilt-stricken by his actions and from Mother Bird's kindness. So the next morning he quickly returns the eggs and apologizes to Mother Bird and his friends. (I've added this to the list because moms also have the power to inspire others to kindness.)
And there you have it—seven books across Asia about why moms are awesome. My goal is to expand this list next year to include more books from other Asian countries. If you know of any more, please let me know in the comments section below. 🙂
Thank you for reading, and Happy Mother's Day!
Got Pinterest? Here's a pin for you!
Would you like to read more children's stories from Asia? Check out the others I've reviewed here: